Green screen & liturgical colours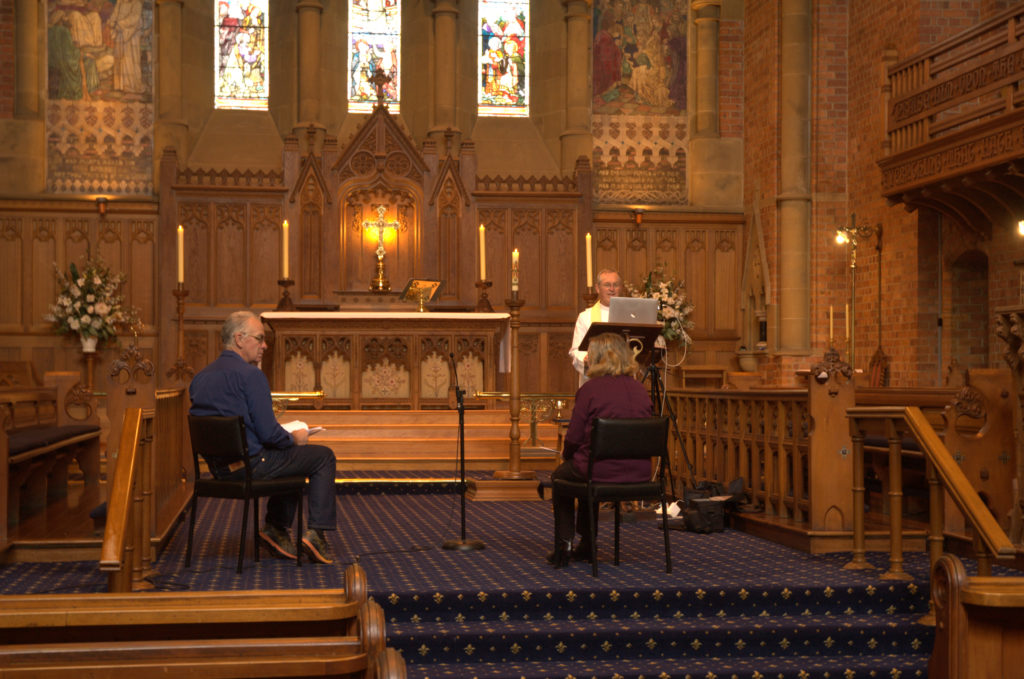 On 17 March, Bishop Richard announced that no public gatherings, including church services, would take place in Anglican churches until further notice. This decision was made in response to concerns within our community about the need for physical distancing to reduce the spread of the COVID-19 virus.
The Anglican Church committed to providing online church services. When Bishop Richard suggested including Holy Trinity as the 'formal Anglican' option to be promoted on the Diocesan website, we were immediately keen to participate but didn't have much time to get organised.
Technology itself wasn't an issue. Having a background in mathematics and logic, computers have been something of a hobby for over thirty years, but I've never had a need to venture into video or video editing until now. As a student at Moore College in the 1980s, we had a week at Anglican Television (as it then was) and last year I sat in on Wayne Chan's session on making professional videos with a smart phone at the Bishop's Training Day. Both of these provided helpful tips, but it was hardly an extensive training program!
Although doubtful at first about using my iPhone 6S to record, the video quality has turned out to be excellent. A clamp to attach the phone to a tripod was easily obtained, but getting a sound feed directly from our sound system was more of a challenge.
It took a whole day to achieve, but it turned out to be possible with the right cables and a video app that was a step up from the standard camera app on the phone. Even so, the sound for our Easter Sunday service was of lower quality, with the phone defaulting to its own internal microphone. Apart from that one glitch, it has worked well.
I realised early that without multiple cameras and experienced operators, we could only manage a single shot setup, so it was a case of choosing a location in church with a pleasing look that would provide a familiar feel to those who know Holy Trinity.
Pre-recording and uploading to YouTube was the best option for us. There is wifi in the church office, but the router is too far from where we needed to record and would have been unreliable for live-streaming. The parish already had a Google account, so setting up a YouTube channel was relatively easy (though the first upload took three attempts to get right!)
The first service we recorded was done in a single take and put up on YouTube unedited. The following week I found some online resources explaining how to use iMovie (which comes free on Apple computers). It turns out to be quite easy to use once you get on top of the basics. The editing has become a bit more ambitious as the weeks have gone on. The challenge is to keep it interesting without the effects becoming distracting or inappropriate.
Further refinements included setting up my laptop computer and Bluetooth mouse to function as 'teleprompter', since speaking to a camera is rather different to speaking directly to a congregation from the pulpit in church.
A range of photos from inside the church, as well as around the exterior and grounds, were put to use as transitions after being sized to match the video clips. We already had some good quality drone photos which were taken to inspect the condition of the roof. It's amazing what you can re-purpose when you need to!
Recording with no more than five people has been easy enough – we are using just four – but the 70 years age limit is more of a challenge. We have had to choose Bible readers from a small number, trying also to include people from each of our centres.
All up, this has been quite an adventure, with some useful skills gained, and trying to be sufficiently organised in advance that if recording in church became impossible we could even make it work from home. I even purchased a green screen in anticipation. A short video, which I called called Green screen & liturgical colours, was the result of my testing the green screen for filming purposes. You can watch it here> [Editor's note: This amusing video will be sure to make you smile]
Comments we've received indicate that our services have helped people in Tasmania, on the mainland, and even overseas – quite an unanticipated opportunity.
The Ven Dane Courtney, Rector Holy Trinity, Launceston