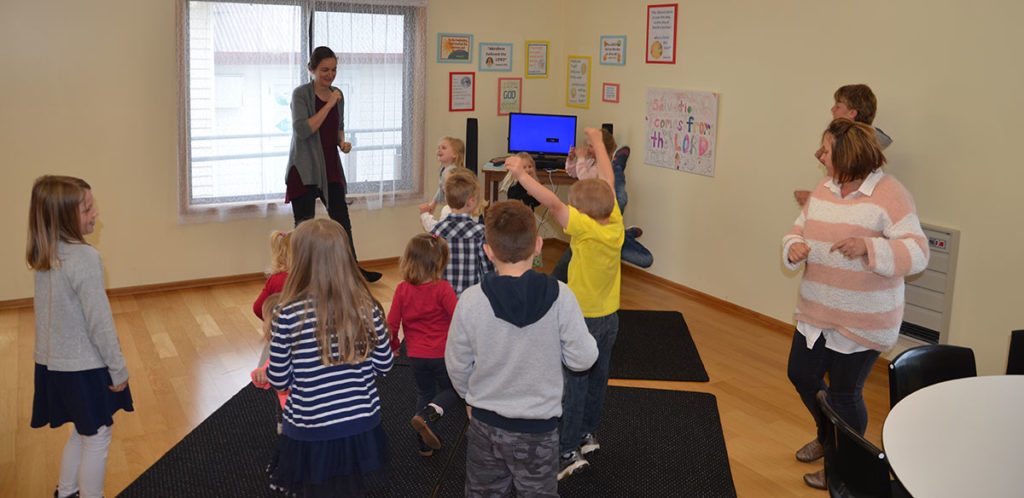 "By the grace of God we have seen many wonderful things occur," said Revd Joel Nankervis, Priest in Charge of the Parish of Circular Head. "In many respects our parish is unrecognisable to how it was twelve months ago," he said.
Joel and his wife Lyn are soon to celebrate their first twelve months in the Parish.
"Our prayer upon coming here was that God would do immeasurably more than all we could ever ask or imagine (Ephesians 3:20). He is abundantly answering those prayers," said Joel.
The Children's Ministry that was launched shortly after Joel and Lyn's arrival has continued to grow forcing the church to refurbish its church office. They have created a wonderful meeting space for older children to be able to talk about Jesus without the distraction of little ones.
"Lyn and her team have done an amazing job, and this has been a key reason for our continued growth," Joel said.
Two new Bible studies have begun. Lyn leads one aimed at young mums, which has been a great blessing for those ladies. The other is an all-age group, which has helped break down some of the age barriers with people from their twenties right through to their seventies attending.
Joel's goal is to see at least two more bible study groups created this year.

"Music has also been a tremendous blessing. We have gone from what I would describe as 'karaoke church', where we played a CD that we sung along with, to having 'live' music each week," said Joel.
"Late last year we appointed a music director who is doing a great job in leading our growing music team. The significance of this appointment is that it is the first time in recent memory that someone from outside of the Council of Management has taken on a major ministry role, something we have identified must continue to occur," he said.
The parish started the Pathways journey and in doing so recognised one glaring issue – the church had no information about itself easily accessible for potential contacts. In response, the church has launched a new website (circularheadanglican.org) and continually updates their Facebook page.
"We also installed a new large sign at the front of our Smithton site just in time for Christmas. Thankfully for us one of our new people is a highly talented graphic designer who has been willing to give countless hours towards creating our new logo and signage," said Joel.
"Possibly the most unexpected and exciting of all is that we are seeking quotes to knock down a wall in our church to create a larger space for our Sunday services, as we are now starting to struggle to fit in our room.
"Currently our comfortable capacity is around 80 to 90 people. We are hoping to turn that into approximately 130 people.
"We hope to fill the new space and then look to plant a new congregation once that, God-willing, occurs," said Joel.
"The month of December really was a snapshot of some of the good things that have been happening here in trying to be a church for Circular Head making disciples of Jesus.
"At the Stanley Show we ran a free children's stall for families to escape the cost of everything else, and to give their children the chance to create Christmas craft.
"We used this opportunity to engage with several dozen locals and gave out information about our church, including a free balloon with our new logo.
"We had a team cooking lunches that raised a large amount of money which we donated to Wyndarra (a local charity in Circular Head) and ABM.

"Our musicians led most of the singing at the Stanley and Smithton carols, and our church received countless plugs because of it. I was invited to preach at the Stanley carols to the 400 folk who came.
"We also entered the Smithton Christmas Parade and had twenty-seven of us piled onto the back of our nativity themed truck," said Joel.
The church ran three services on Christmas Eve and one on Christmas Day, with just over 200 people attending across the weekend.
"The challenge now is following up the genuine local visitors we saw over that weekend and trying to connect further with them in the months to come," he said.
"As you can see, God has most certainly answered our prayers, and so now we are praying that God would continue to do immeasurably more," said Joel.