Finding faith and a community through Alpha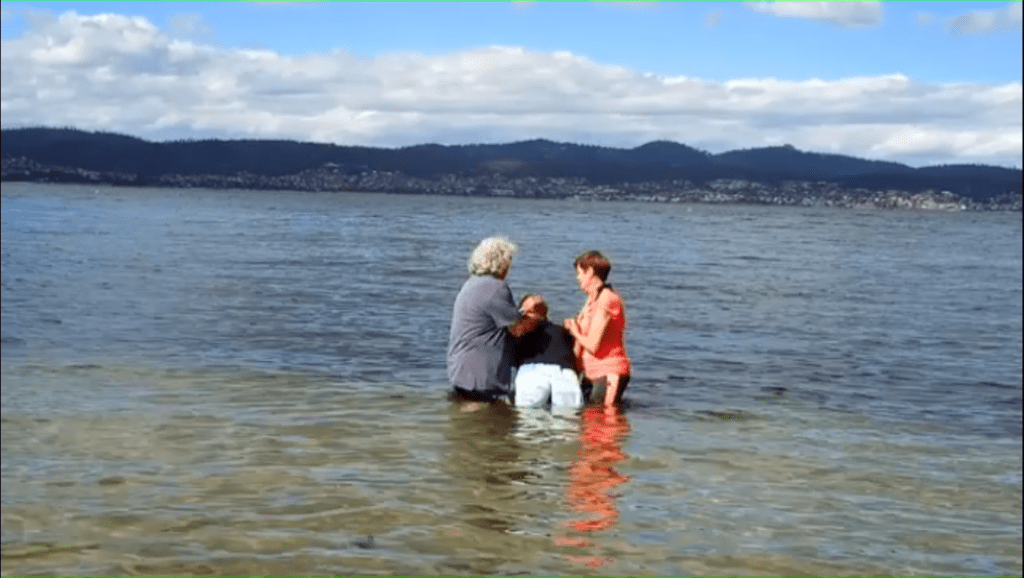 Born in Bangladesh in a Hindu cum secular family, Mithun experienced the joy of celebrating Christmas, receiving a good education at a private Catholic College and attending the Temple with his mother who was a practising Hindu.
Mithun also experienced the struggles of being part of a minority ethnic group, observing his mother being bullied for not covering her face with Arabian style hijab rather than wearing traditional Bengali attire, and aware his parents were forced to pay 'protection money' to ensure their family safety. He felt like a displaced stateless person and never had a sense of belonging.
"I came to Australia to study. I met Christians at social clubs in University and attended some events but was turned off as I felt pressured to accept Christianity immediately," Mithun said.
"Not long after moving to Hobart a friend handed me a card advertising an Alpha course. On it was a big red question mark, which was interesting, and in bold letters it said: explore life, faith, meaning, which I found very appealing.
"As a devoted learner and lover of history and creation of the universe, this course came at the right time. I had nothing to lose – free food and the opportunity to 'explore life, faith & meaning'!
"The Alpha videos were fantastic. Nicky Gumbel demonstrated sensitivity in his argument while sharing his personal stories with a reflection from the biblical context, and I found them inspiring and meaningful," he said.
"I didn't feel pressured and I enjoyed the interactions and discussion in the big Alpha group. I was free to ask questions and express my point of view even though they may have been different. For example, it was difficult to accept the idea of forgiveness, especially forgiving those who displaced us from my birthplace.
"The best thing about Alpha was the honesty.  If people didn't know the answer, they didn't pretend to know everything rather they would say, "we don't know all the answers as we don't know everything".
"I was invited to Church the next Sunday (6 May) and decided to go. The most striking thing for me was seeing a woman up front leading. Women were neglected by major religions and treated unequal in education and the workplace in Bangladesh and I liked the fact that this church was open-minded and encouraged women in leadership.
27 May 2018, Mithun attended Church Together at Princes Wharf. "I have never seen worship like it before. It was informal, lively and powerful. At the end there was an invitation to reconnect/connect with Jesus and I felt like 'something' was dragging me down the aisle," he said.
In the excitement of the moment that night Mithun posted a status on Facebook, "I've just accepted Jesus as my Lord and Saviour".
"Becoming a Christian has changed my lifestyle and my relationships. My faith has given me peace and purpose and the biggest change has taken place in my life.
"I often ask myself how Jesus would react if he was in my situation. I used to be very competitive and react quickly. I feel there has been a massive change in me as I try to be more humble, respectful and patient in a confrontational situation.
Recently, Mithun visited Melbourne to meet up with old friends. "They discovered my new confident, expressive and positive attitude, which I believe the Holy Spirit poured on me," he said.
"I have no fear any longer as God has promised that I am saved, and everything will be fine. He was here in the beginning and He will be there in the end. I love The Apostles' Creed as it reminds me of this promise and fills me with peace.
"The Cathedral community made me feel so welcome. People have opened their homes, celebrated my birthday, encouraged and supported me. I have been so blessed.
"Attending Alpha, being part of the Cathedral family and taking part in social gatherings like watching the movie 'Case for Christ' has all helped to sustain me on this path.
Mithun was baptised on 10 December 2018 in the Derwent River by Rev'ds Ruth and Michael Hanlon.
"I'm now supporting the Kids' Church at the Cathedral and enjoy singing in the choir. My family here at St David's has provided stability and I know they are there for me.
"Since May 6, other than 2 weeks when I was in Melbourne, I never missed a single Sunday at Church. The Cathedral has become my family and I have a deep sense of belonging," Mithun said.
*Name has been changed for privacy reasons.