After 67 years of searching, Faith found the truth she was looking for
Faith Selah recommitted herself to follow Christ after a long wandering in the wilderness. Read her story:
I grew up in Sydney, Brisbane, Hobart, Adelaide and Perth with two brothers, a sister, and parents who were mildly committed Churchgoers. I was baptised at four months old and grew up loving hymns. I was confirmed at age 13, but Jesus on a cross felt gruesome and sermons emphasised how wrong I was, and l did not want to be labelled a sinner, so I just taught stories of Jesus to Sunday School kids.
I attended a Church of England Girls' School where I was offered meagre religious instruction and no prayer or worship. The only Scripture I remember from those years is Luke 2:29-32 (the Nunc Dimittis/Song of Simeon) and Psalm 23 – and I only remember them because I had to write them out 50 times as part of detention.
In my mid-teens, my mother ran off with the organist, leaving us disgraced and leading to many disturbing years of turbulent family breakdown.
As I became an adult, I felt drawn to grasp the human condition more fully and attempt to relieve the aching heart of people. This led me to study and work as a Social Worker. With hindsight, I see that the weight of the woes of society were too great for me to bear.
I was not equipped to know how to change the sorrows of the world. This realisation led me down a variety of different paths. I became involved in the Women's Movement, which encouraged liberation from society's oppressors along with pushing the limits of social norms. I was intent on exploring and escaping the ordinary so I traded the city for a simpler existence of a sailor's life and spent 13 years cruising Australia and Indonesia, boat building and even experiencing shipwreck.
I was introduced to meditation which stirred my interest in the spiritual dimension. This began an intriguing though unsettling ten years where I worked as a personal aide to a Satanic Ritual Abuse survivor. We were on the run, using my old Kombi as both a camp and our means of evading the underground cult networks of drugs, guns, porn and sex slave trafficking. Those years really tested my belief that the power of love was all that was keeping us protected. I changed my name to Wunjo Stardust – a cosmic name to match the unusual role and life I was living.
For the next 20 years I searched for freedom among many gurus, shamans, yogis, sensei's, swamis and monks but did not find the enlightenment or truth I was looking for. I later recognised that I was hunting for a master teacher as lovely as my early sentiments of Jesus.
I returned to Tasmania and connected with my cousin, Reverend Trev, about the challenges of living in this world, and what makes living worthwhile. To my surprise, he suggested I discontinue various spiritual practices I had taken up, which looked dark in his estimation. His wife later offered me her tiny cherished Bible – saying that Trev had told her I would be interested in learning more about Jesus! That was startling news to me, as I had not actually made the connected that the whole Bible is all about Jesus!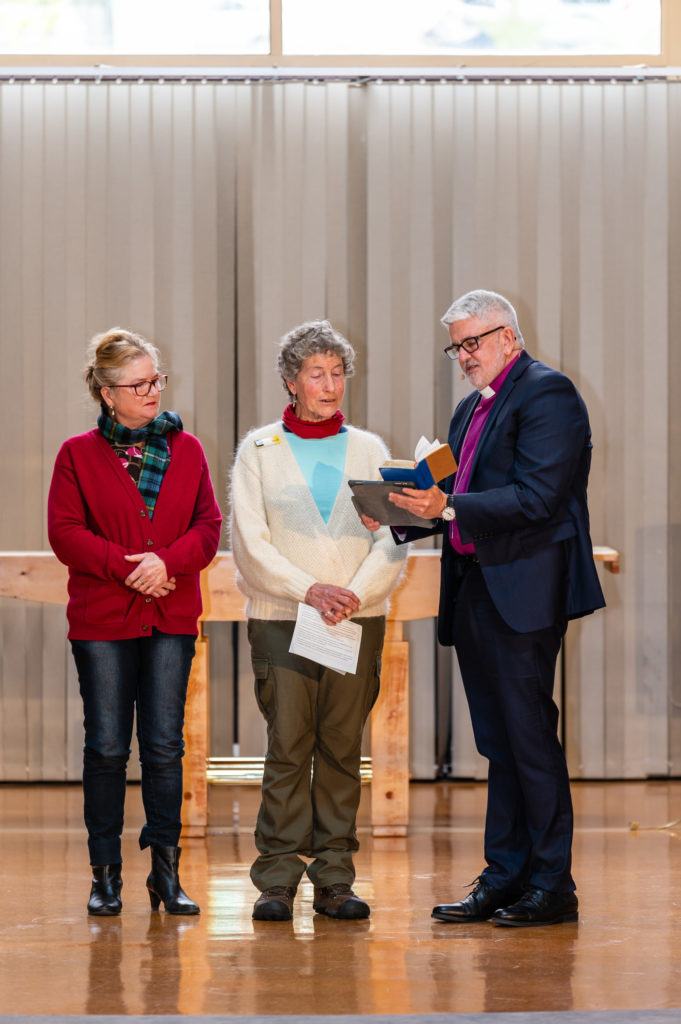 Trev's gentle guidance over several months led to a delightful invitation to come along to his church. I was once again so deeply moved by worship and hymns, like when I was a little girl, and I felt a spiritual nourishment and warmth being amongst God's people.
I pondered the possibility of 'occasionally' attending a church nearer home and on Trev's suggestion I looked to Kingston, where I found St Clements' webpage. I signed up for an Alpha discussion group starting the following week – how fortunate was this timing! I warned myself though, to not get pulled into being involved too soon, in case this turned out to be yet another movement or cause that might let me down.
What I found during the course was fascinating, but I was quite puzzled by what we were 'being saved from and for' until I read the Alpha booklet "Why Jesus". I gasped as it dawned on me how I had been deceiving myself for 67 years about what a big sinner I actually was/am.
Soon after this comprehension, I opened the door of my guilty, hostile heart to receive Jesus and through cleansing tears of amazement, I received His mighty gifts of grace and forgiveness.
Astounded by my expanding sense of peace, I felt renewed and with a stable foundation, I noticed that my shame, guilt and distorted identity were mysteriously disappearing. I now enthusiastically want to get to know Jesus more and more.
Increasingly, this extraordinary Jesus-centred life beckons me ever-deeper as my grateful relationship with Him strengthens.
I embrace His continual correction in my endeavours to fulfil what He has planned for me to do. Jesus has become the most powerfully important person I have ever known. I eagerly want to serve Him whole-heartedly. Such a big journey and so little time!
I am very relieved now to renounce my pagan identity and rename myself Faith Selah as I mature in my secure and faithful walk in Christ, feeling accepted and loved like never before.
What a blessing to experience joy and peace in believing in Christ with you all.
PRAISE FOREVER TO THE KING OF KINGS!