In March this year, Bishop Richard approached me to share an idea: what would it look like if he came and spent a week with us, here in the Parish of Deloraine, engaging in a series of intentionally evangelistic and missional opportunities?
The premise was simple, instead of encouraging evangelism and supplying training, by coming to the 'coal-face' of parish life, +Richard could model and support evangelism in a much more intensive and hands on way. Anything that encourages telling people about Jesus is a winner – so I was on board!
As we looked at the week, we wanted to try to create a variety of opportunities, that reached as many different facets of our community as possible. We wanted to commend Jesus to people, encouraging them to consider the claims of Jesus, and provide opportunity for response and follow up.
The week began with +Richard visiting the local Rotary club, where he spoke on the topic of 'Servant Leadership'. He posited that although servant leadership became a popular model in the '70s, the origin of the idea is found in the person of Jesus Christ. The idea was well received and there were interesting questions from the floor indicating good engagement with the talk – including a question on whether Jesus was an introvert or an extrovert! A highlight of the evening was connecting with a local publican who has faith in Jesus but has lapsed in his connection with the Christian community – I foresee a drink with that gentleman in the near future!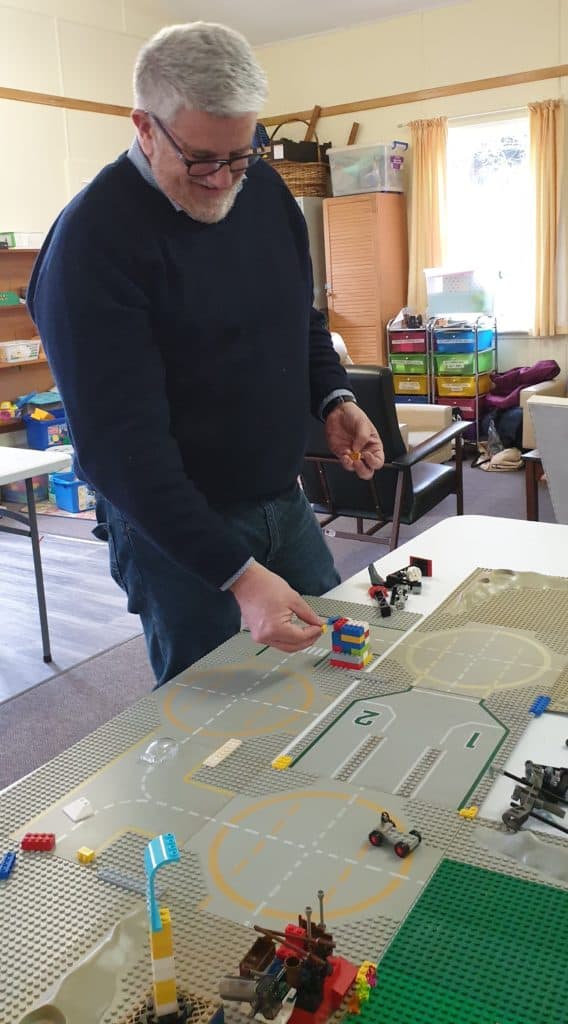 It was a treat to have +Richard at our LEGO club on both Wednesday and Thursday. After first being mistaken as my father, then my older brother, many couldn't believe that he was "The Bishop", because he "looks just like a normal guy". The kids enjoyed building LEGO with +Richard too – he was on Team Space and built a communication tower to help the crash-landed party to communicate with earth.
One evening +Richard met with members of our Parish and shared some of his testimony, particularly the way that it shapes his heart and vision for the church in Tasmania. This was deeply encouraging to hear and reminded us that we all have a story to share.
Thursday was our biggest day. We began in the nursing homes, encouraging folk to trust and hold onto Jesus, because he is the one who calms the storm with a word. At lunch we hosted community leaders from all sorts of different organisations. +Richard shared on the topic of 'loneliness, community and the role of community organisations'. Perhaps the highlight of this was the conversation with leaders from our local Muslim community, and the gratefully accepted invitation to come and visit St Mark's sometime soon. In the evening we held a public showing of the film – "For the Love of God – how the church is better and worse than you ever imagined".
On Friday there was time to rest, pray and prepare, because there was 5kg of pork shoulder and 3kg of chicken wings to smoke, low and slow for the launch of Beer, BBQ and Blokes.
This is a new mission initiative that is part of our discipleship pathway, designed to create a space for men to gather and to share their stories, their struggles, their lives with one another, and for Christians to share with those men the good news of Jesus! 18 men came to the evening – warm fire, delicious food, cold beer and great conversations were shared.
Men came from all sorts of backgrounds, some simply because they had seen the word 'beer' on the advertising. They listened as I shared some of my testimony, especially the difference knowing Jesus has made in my life, and +Richard encouraged us to consider the good bloke Jesus – who isn't irrelevant or wimpy at all!
This was a fantastic night. The non-Christians survived the 'God talk' indicating that they will come next month – one even offered to bring some of his home brew beer to share with us. There has already been an enquiry for follow up from someone who was impacted by the story shared that night. Please pray for this ministry as it grows, especially for continued opportunity to commend Jesus to the men of our community.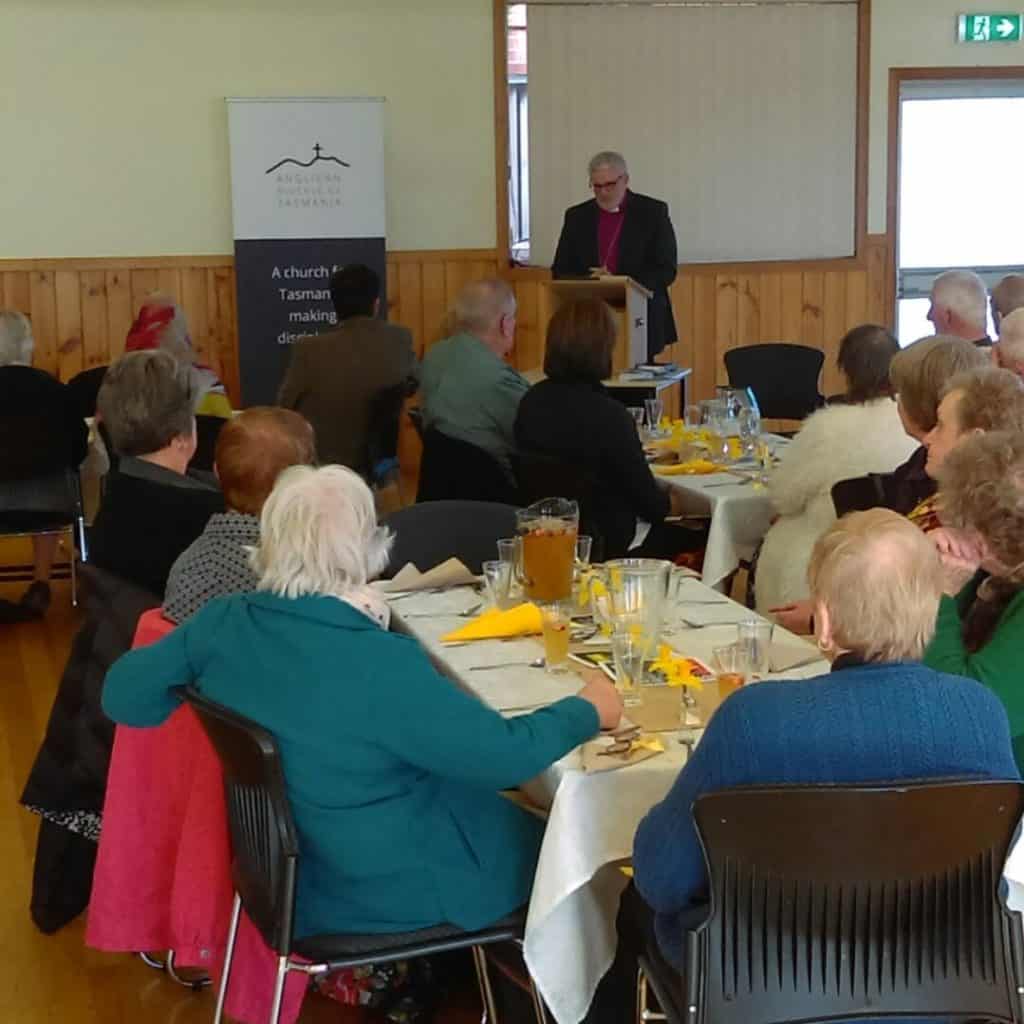 On Saturday +Richard hosted a morning tea for the ladies in our community, encouraging them into an encounter with Jesus. We then visited a couple of farms in the area, having great conversations with the folk we encountered.
We finished the week with a 'Back to Church' style celebration at St Mark's on Sunday, worshipping Jesus together, praying for our community and the people we had met through the week, and being encouraged by the four greats of Mark 4: the great storm, the great calm, the great fear, and the GREAT question: who even is this man, even the wind and the waves obey him?
The reality of this week is that much of what we did was sow seeds, and we don't know what sort of soil the seed has fallen into. There are conversations that have been started, ideas that have begun to form, and for more than 100 people in Deloraine, the person and work of Jesus was presented and commended as of great importance.
In September and October, we will be running Alpha for those who want to explore questions of life and faith, and during our services we will be focusing on a series from the Gospel of John aimed at (re)discovering Jesus.
Please join us in praying for the fruit of the gospel ministry that has already happened, and for further opportunities to share with our community and region the good news of Jesus Christ – that his Kingdom would grow as his Gospel is proclaimed.
By The Revd Josh Skeat, Parish of Deloraine