A Message from The Bishop of Tasmania – Anglican Church will cease gathering during COVID 19 pandemic
The Anglican Church has decided that in response to the COVID19 pandemic we are going to institute social distancing by limiting all of our gatherings to fewer than 10 people. From now on, we will not meet for public worship or in other large gatherings, until further notice.
In the next few days links will be made available on this website for people to participate in worship via a video link, from one of our churches. This will enable people to stay at home by themselves and watch via a computer, smart TV or smart phone, or to gather in a small group (fewer than 10) where a computer or TV is available.
Our advice is that limiting contact with others will slow the spread of Coronavirus and will help our health network not to be overwhelmed.  Many Anglican churches have vulnerable people in attendance, the elderly and the young, and so we want to protect them and others by social distancing.
We want to make sure everyone in our church and wider communities are cared for, so please contact your local church for support. We are here to help.
We believe that God cares for his world, and for each one of us. He is dependable even in times of great disruption and stress.
Psalm 46:1-2

1      God is our refuge and strength,

a very present help in trouble.

2      Therefore we will not fear, though the earth should change. (NRSV)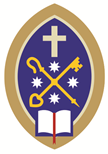 Richard Condie,
Bishop of Tasmania
Media Release can be read here.